Our Thoughts
Factors supporting the case for investment in logistics in Ireland
The logistics sector of the property market has been a stellar performer in recent years. While occupiers such as manufacturing companies have always been active in this specialist sector of the market, investors, for the most part, haven't traditionally invested significantly in logistics real estate.

Despite its positive income generation characteristics, investors have historically tended to deploy capital into more visually appealing offices, retail, and residential assets. The scarcity of suitable institutional grade investible opportunities has been the main impediment to investment into logistics.
Over the last few years, however, there has been a notable shift in investor allocations towards logistics assets and considerable capital has been chasing investment opportunities in what has up to now been a relatively niche sector. The development of new institutional grade properties has created investible opportunities and boosted liquidity. Close to €1 billion was invested in logistics real estate in Ireland during 2021, accounting for approximately 18% of total capital deployed in the year, while more than €500 million was invested in this sector during 2022, accounting for 8% of total spend in the year.  This compares to an average of 4% of total investment spend per annum in the preceding decade. So why is logistics real estate now so highly sought after and what are the specific characteristics of the Irish market that make investment in this sector so compelling?
Favourable demographics
Like in many other sectors of the market, one can't ignore the impact of Ireland's unique demographic profile when assessing demand for modern logistics buildings. A population that is continuing to grow at Ireland's pace, naturally consumes more goods, all of which have to be stored and transported, which in turn fuels demand for additional real estate. This is particularly the case in urban locations where a large swathe of the population is concentrated. The unique age profile split of the Irish population is another significant driver of demand. Ireland has the highest proportion of 25–44-year-olds in the EU – all of whom are digitally savvy and ordering increasing volumes of goods online.
As the population continues to grow, the need for additional logistics accommodation will continue to increase.
Ecommerce growth
Globally, there has been more than a 100% increase in Ecommerce sales in the last 5 years alone. It could be argued that Ireland has been a slow adopter of online shopping. However, although it remains lower than the UK, online penetration in Ireland, in the mid-teens, is considerably higher than in many other European countries and it continues to increase, having been boosted significantly by the pandemic. The adoption of the Eircode postcode system in recent years has further boosted Ireland's ability to facilitate Ecommerce and omnichannel. Regardless of whether sales occur online or in store, goods still need to be transported and as consumers become more demanding in terms of expected delivery turnaround times, the need for additional modern warehouses and distribution centres will, in turn, continue to increase. The need to accommodate 'reverse logistics' to facilitate online returns will further stimulate demand while additional cold storage space will be needed to support further increases in online grocery shopping.
Onshoring
Ecommerce is not the only driver of demand for logistics premises. Unlike previous economic cycles, where demand for logistics buildings was primarily driven by demand from manufacturing, the drivers of Ireland's economy are now diverse and this is manifesting itself in demand from pharmaceutical companies, food manufacturers as well as third party logistics (3PL's) and distribution companies. Two additional events, namely Brexit and the Covid-19 pandemic, also exposed particular weaknesses in Ireland's logistics infrastructure. Both events revealed that there was too much of a reliance on 'just in time' supply chain dynamics on the island heretofore, with most retail outlets and distribution centres holding limited, or in some cases, no inventory in-country. The vast majority of goods ordered online arrived via a port or an airport.
When global supply chains were rerouted and customs and tariffs started to apply to goods coming into Ireland via the UK, the deficiencies in Ireland's logistics infrastructure were evident for all to see.
In addition to regular goods, problems also arose in relation to the storage and distribution of strategic stockpiles of critical goods such as medical supplies and essential manufacturing components. Meanwhile, many occupiers (particularly retailers), realising that consumers are now more demanding in terms of delivery times and wanting to avoid situations of shortages on shelves in stores, began to increase the volume of inventory held in-country and alter traditional distribution and storage patterns. This increase in nearshoring created a surge in occupier demand for new industrial facilities. With limited availability of units of the required size and configuration within existing schemes, this has necessitated the development of modern premises and supported new construction. A combination of moving production closer to where goods are consumed and holding more stock in-country has led to very strong occupier demand for modern premises and this trend is only set to escalate over the coming years.
ESG
As in all other sectors of the market, the last two years has seen greater bifurcation between the best quality modern accommodation and older logistics facilities. An increasing number of logistics occupiers have plans to get to net zero emissions not least to counterbalance supply chain emissions. Many end-users are now insisting on occupying the newest logistics buildings with the best ESG credentials, ruling out functionally obsolete stock that was largely built in the 1970's and 1980's and is simply no longer fit for purpose.
What we are witnessing is a large-scale shift from functional buildings to sustainable buildings. From a design perspective, building materials have evolved and modern logistics schemes bear no resemblance to the 'sheds' that went before.
There is more use now of low carbon materials, design features such as skylights to maximise natural lighting, photovoltaic panels as well as systems to monitor water, heat, and energy usage. A modern logistics facility is likely to use renewable energy and feature smart sensors, LED lighting, rainwater harvesting as well as being equipped with electric vehicle charging points and being temperature controlled. Those buildings that don't adapt will find themselves stranded in due course. New buildings are being developed to the highest ESG standards, not just to achieve necessary NZEB accreditation but to satisfy end users and help secure green financing. To reduce carbon emissions, this sector will, in time, face even more stringent regulation. Occupiers will therefore need to focus on improving freight transportation efficiency and reducing emissions from manufacturing processes. Developers also need to produce more efficient buildings and use materials such as timber instead of concrete and steel, such as Ireland's first timber frame logistics building, which IPUT is currently developing at Quantum Logistics Park in north Dublin for Maersk.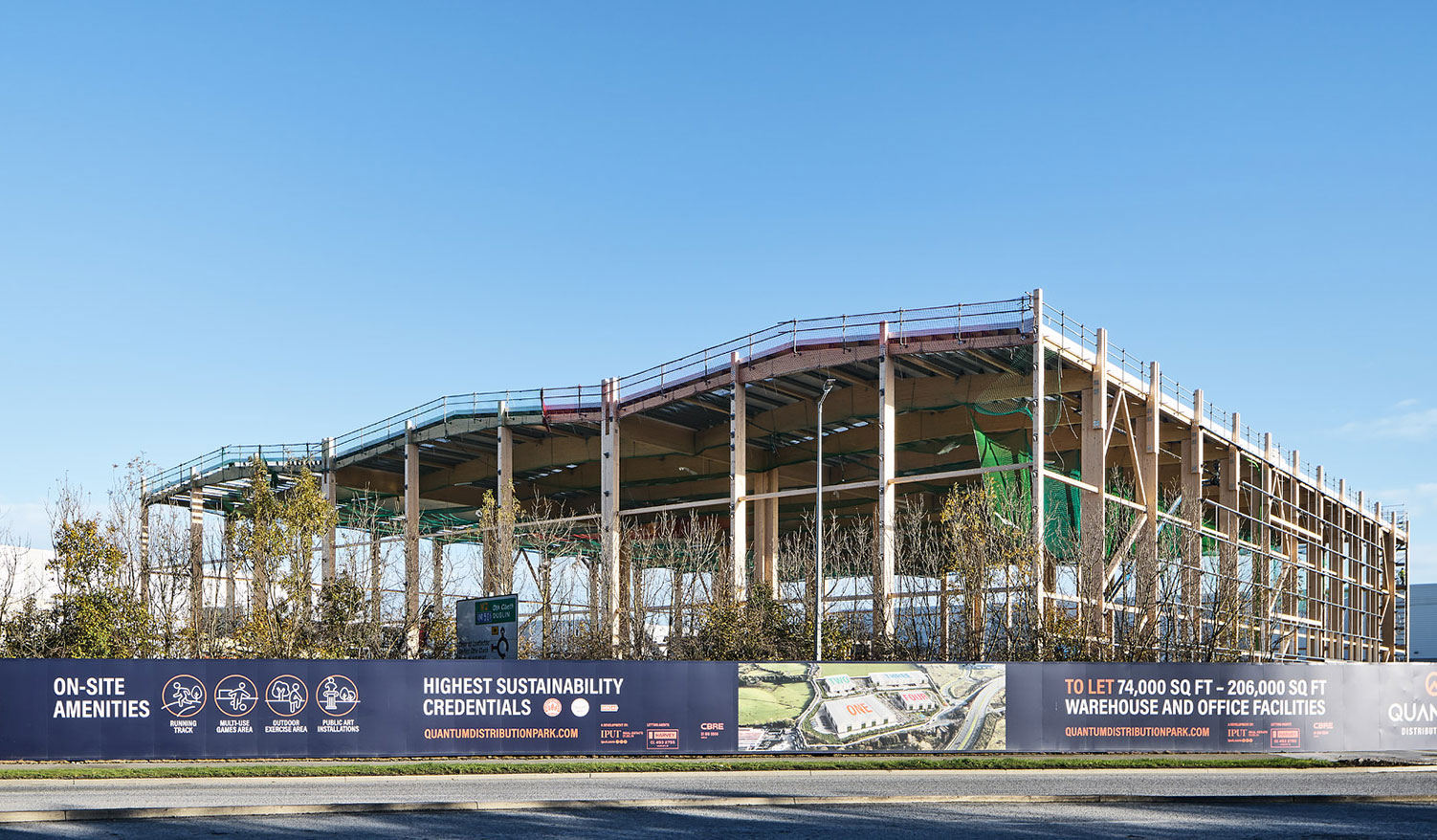 The focus is shifting from developing what were traditionally functional buildings in not very pleasant or inclusive environments to a more holistic approach of developing high-specification sustainable facilities in highly landscaped environments rich in amenities and services to benefit all users including local businesses and the wider community. This will make these locations more inclusive and appealing to all users and help occupiers with staff attraction and retention.
Location decisions
Logistics occupiers are also now more discerning about location than ever before. Demand for faster and more efficient deliveries is driving demand and as a result, many occupiers have had to put new supply chain solutions in place. Demand for large standalone facilities has increased as is evident from many of the significant pre-lettings signed in the last two years. However, instead of one primary logistics hub, some occupiers may now opt for multiple smaller distribution centres to accommodate the rise of same/next day delivery around the country. The relative proximity of airports, ports, road, and rail links will increasingly dictate location decisions. Those transporting large amounts of bulky freight will increasingly be focussed on locations close to ports while occupiers transporting higher value and perishable items will have a greater focus on being close to a major airport. Those locations that offer proximity to several different modes of transport will ultimately be most sought after.
Technological advancements
Another key consideration is the increasing use of technology to optimise efficiencies within logistics buildings. Companies are acutely aware of the productivity gains that can be achieved from the use of new technological solutions and automation.
Occupiers are increasingly looking to expand and upgrade to more modern premises to facilitate the installation of automated technology and robotics to speed up throughput and boost efficiencies.
Increased use of such technologies means that software engineers, supply chain managers and data analysts are often now co-locating alongside traditional factory workers and drivers within buildings, necessitating a higher office content than would traditionally have been contained within logistics facilities. From a landlord's perspective, occupiers who invest heavily in technology and complex fit outs generally tend to commit to longer lease terms and are ultimately stickier tenants.
Summary
With build cost inflation likely to negatively impact the development pipeline in the short to medium term, the thesis for investment in logistics real estate remains sound despite recent outward movements in yields as a result of rising interest rates.
A combination of demographic, economic, technological, and structural elements combine to make investment in Ireland's logistics sector a compelling prospect, particularly for investors such as IPUT, who have the ability to take a long-term perspective. Our ambition is to increase the fund's allocation to logistics over the coming years on the basis that the sector has potential to be defensive and somewhat resistant to cyclical shifts in performance. It has also many similar characteristics to the retail warehouse sector to which we are already very well accustomed.
An increasing number of companies are looking to outsource their supply chain processes, which is leading to increased demand for facilities. Meanwhile, the supply of modern premises, particularly those offering the best ESG credentials, is particularly acute. While Ecommerce will continue to be a significant driver of demand, there are other growth factors at play in the Irish economy, which justify further investment in the logistics sector.